The pandemic has changed the way we think about and predict the future.
As we enter the third year of COVID, we see the significant impact it has had on technology strategies, spending patterns and company fortunes. Much has changed, and although many of these changes were forced reactions to a new abnormal, the trends we've seen over the past 24 months have become more entrenched and point the way to what's ahead in the technology business.
In this Breaking Analysis, we welcome our data partner and colleague Erik Porter Bradley from Enterprise Technology Research and we put forth our annual predictions for enterprise technology in 2022 and beyond.  We'll do our best to back up our predictions specific supporting data and more granular detail that can be measured as accurate or not. Please refer to the grading of our 2021 predictions to judge for yourself how we did last year.
Prediction No. 1: Tech spending will increase 8% in 2022
Our first prediction goes right to spending, something ETR surveys for quarterly and we've reported on extensively. We're calling for tech spending to increase by about 8% in 2022.
We predicted spending would increase by 4% in 2021. IDC at last check came in at 5.5%; Gartner was higher but in general not bad. Looking ahead we're seeing an acceleration from the September surveys, as you can see in the yellow versus blue bars in the chart above. Notably, small and medium-sized businesses that were hard hit by the pandemic are picking up spending and expect growth above the mean. As well, the ETR data is showing above-average acceleration for energy, retail and services. And notably the Forbes largest 225 private companies are predicting well above average spending in 2022.
Here's a summary of what the ETR data tells us:
This quarter's ETR survey included 1,200 respondents;
More than one-third were at the C-suite level;
Strong representation from Fortune 500 and Global 2000 buyers;
The spending growth expectation of technology buyers is currently 8.3% and rising;
Energy and utilities is one of the most robust buying sectors given that the state of tech in our energy infrastructure needs help, as noted by the Florida municipality water hack last year;
Retail is showing growth above the mean as the work-from-home shift accelerated the shop-from-home trend. Retailers must spend to remain competitive with or differentiate from Amazon.
Listen to Erik Bradley's full commentary on tech spending for 2022.
Prediction No. 2: Security will remain the No. 1 priority to be addressed in 2022
You may feel this is an obvious prediction as events such as the SolarWinds hack, increased ransomware attacks and other vulnerabilities like Log4j have heightened concerns. But we'll add some additional color and specific sub-predictions that will serve as binary indicators.
In the chart below, you can see the degree to which security is top of mind relative to some other important areas such as cloud, productivity, data, artificial intelligence, networking and automation.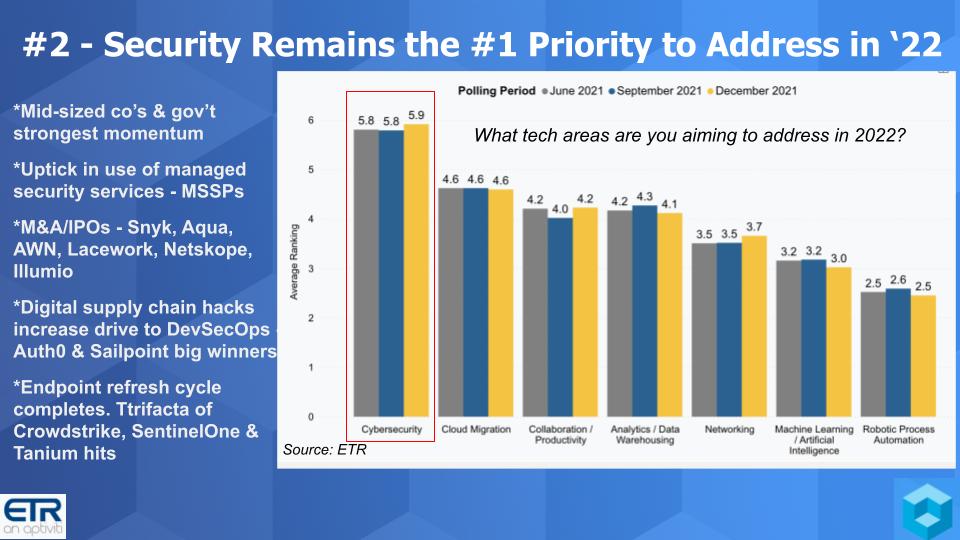 Organizations don't have unlimited budgets and there are many competing priorities for dollars. And depending on the size of company, the importance of security varies. For example, though security is still No. 1 at the largest public companies and biggest spenders, it's not nearly as pronounced as it is on average or in, for example, midsized companies and government agencies. And this is because unlike midsized or smaller companies, they have more resources and have generally done a better job of securing their infrastructure and data.
A sub-prediction here is that managed security service providers or MSSPs will grow faster than the market and we would expect not only faster growth but possible initial public offering activity in the market.
In addition to the rise of MSSPs, we're calling for mergers and acquisition and IPOs and have specified some names in the chart above, including Snyk Ltd., Aqua Security Software Ltd., Arctic Wolf Networks Inc., Lacework Inc., Netskope Inc. and Illumio Inc.
We're also pointing to the digital supply chain as an area of emphasis which will help the likes of Auth0 Inc. (now part of Okta Inc.) and SailPoint Technologies Inc.
Finally, we're calling out three winners in endpoint security — CrowdStrike Holdings Inc., SentinelOne Inc. and Tanium Inc. — that we believe will gain significant share in 2022.
Listen to Erik Bradley's commentary on the trends in cybersecurity.
Prediction No. 3: In 2022 organizations rethink remote work
Our next prediction speaks to the ways we work. We're calling for a major rethink in remote work for 2022. We had predicted last year that by the end of 2021, there would be a larger return to the office, with the norm being around one-third of workers permanently remote. That didn't happen because of concerns related to COVID variants.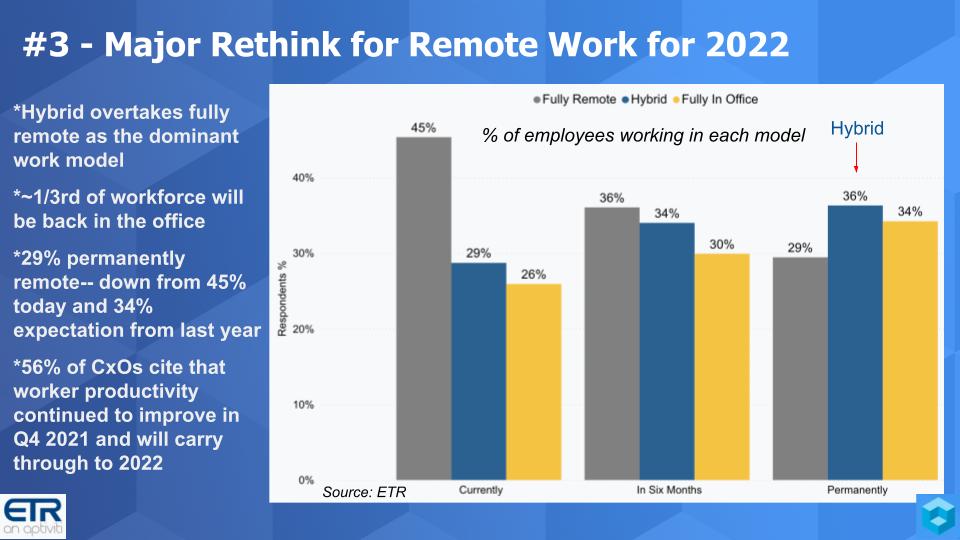 Given more time, the idea of hybrid work has really come into focus and we're predicting it will overtake fully remote as the dominant work model in 2022. We expect only about one-third of workers back in the office full-time by year-end 2022 and well over 60% will work in some type of remote configuration. We expect fully remote workers will settle in at just below 30%, which is still significantly higher than the historical average of about 16%.
The bottom line is productivity is up and remote work is proving effective for organizations. We expect in 2022, companies will focus on getting hybrid right and the dominant model for workers will be a combination of remote with a regular in-office presence. This will lead to smaller headquarters and a more distributed presence where remote workers will increasingly come to what were once predominantly offices for salespeople.
Listen to Erik Bradley's commentary on the remote worker trends.
Prediction No. 4: Supply chain issues will affect hardware spending patterns in 2022
The next prediction looks at the supply chain and how it's affecting hardware spending and cloud strategies in the future. In the chart below, ETR asked buyers if they've experienced problems procuring hardware as a result of supply chain issues. To summarize:
We expect personal computer and laptop volume to stay strong despite supply constraint problems and recent softness;
Cloud migration will hurt appliance-based firewalls, servers and storage hardware, which will show revenue growth in the low single digits.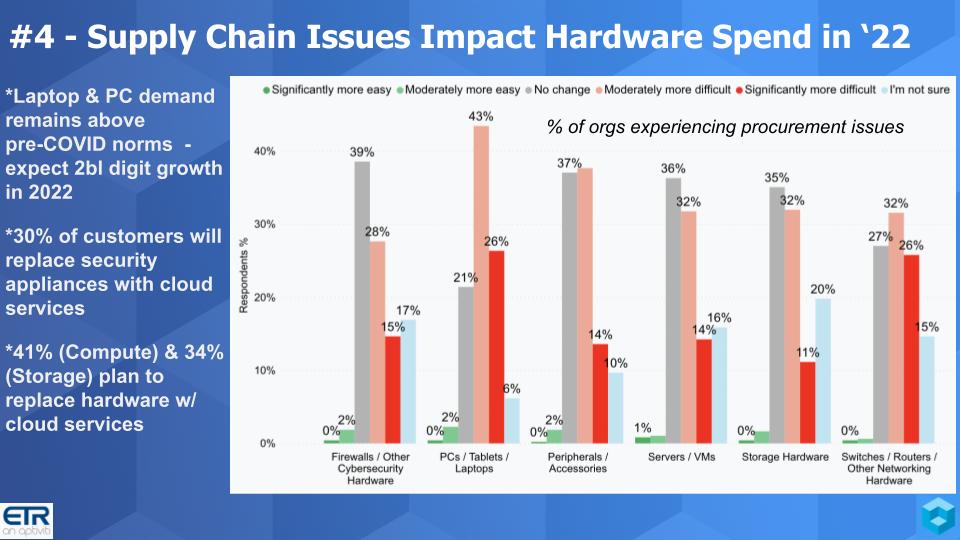 Despite the fact that some companies are doing well delivering product, it's pretty clear that buyers are having some procurement challenges – and this will affect buying patterns in 2022. This will be especially pronounced in PCs. Although networking buyers are citing challenges, we don't expect as much of an impact in buying strategies (for example, a shift to cloud) because network infrastructure is well entrenched. But we do expect a significant shift in firewalls, servers and storage.
In terms of specific predictions, we see laptop and PC demand staying well above pre-COVID norms where the market was contracting and we think it can continue to grow in the mid- to high single digits in 2022 and maybe even approach double-digit growth if consumer spending stays strong.
We don't expect a massive migration away from existing networks to the cloud in 2022. But when it comes to firewalls, servers and storage, there's a much higher propensity to move to the cloud. Thirty percent of customers ETR surveyed will replace security appliances with cloud services and 41% and 34% will move to cloud compute and storage, respectively, in 2022. So cloud's relentless march on traditional on-premises models continues.
Listen to Erik Bradley's commentary on the supply constraint data.
Prediction No. 5: Hyperscale IaaS and PaaS revenue surpasses $167B in 2022
We're going to stay on cloud for a bit and share some recent projections that we've made as shown in the chart below.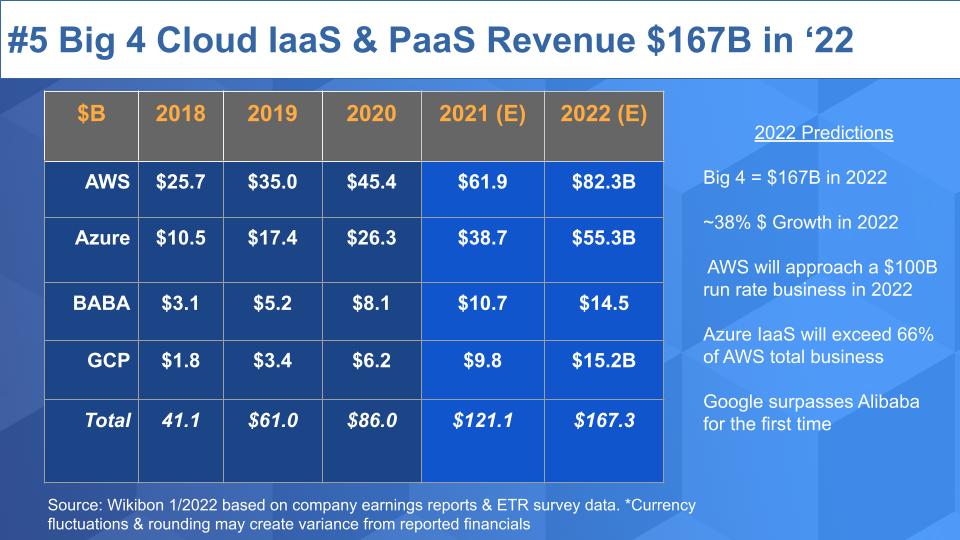 We expect the Big Four cloud players will surpass $167 billion in infrastructure-as-a-service and platform-as-a-service revenue in 2022. As observers of this program know, we try to create an apples-to-apples comparison among Amazon Web Services, Microsoft Azure, Google Cloud Platform and Alibaba Cloud.
We're calling for 38% revenue growth in 2022, which is astounding for such a massive market. AWS probably won't hit a $100 billion run rate, but it will be close and it will get there by 2023. Azure continues to close the gap and will grow to be about two-thirds of AWS' revenue in 2022. And we expect Google Cloud's revenue to surpass Alibaba and take the No. 3 spot.
The spending momentum in cloud, despite its size, is accelerating in the ETR data set. ETR data also shows momentum in the next tier of cloud players such as Oracle Corp. and IBM Corp.
Listen to Erik Bradley's full commentary on cloud.
Prediction No. 6: Supercloud becomes a thing
The next prediction is something we've been having some fun with and that is the notion of supercloud.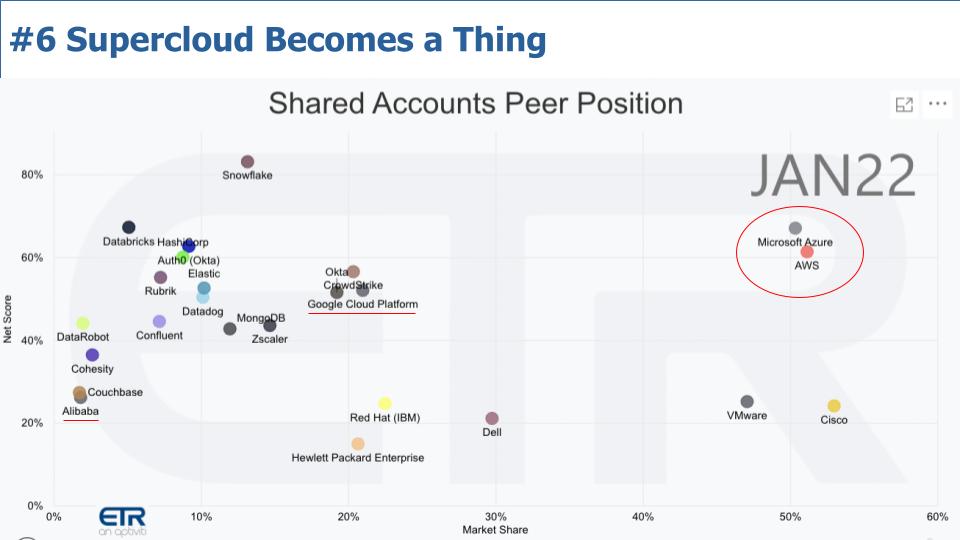 The reason we say this is fun is because we put this concept of supercloud out there and it's become a bit controversial. The very thoughtful and no-BS Charles Fitzgerald at Platformanomics has wonderfully challenged us to put some definition behind this concept in his extremely clever style. If you're not familiar with his work, definitely check it out – it's quite good.
First, what defines supercloud? Though admittedly it's a buzzy term, we really believe there needs to be a rethinking or evolution of the term multicloud. What we mean is that in our view, multicloud from a vendor perspective has really been cloud compatibility. It certainly wasn't marketed that way, but that's what it was. Either a vendor would containerize its legacy stack and shove it into a cloud, or the company would do the hard work and build cloud-native services in one of the big clouds. But there really wasn't much if any cross-cloud leverage.
Multicloud from a buyer perspective was largely a symptom of multivendor – that is, different workloads running in different clouds or M&A that brought in, for example, Azure workloads where much of the cloud work was already on AWS. But generally, for most buyers, multicloud wasn't a deliberate strategy. Perhaps there was some effort to hedge lock-in risk, but it was generally focused on information technology transformation or running work in respective clouds because of a sound reason – such as "I have a Microsoft workload on-prem and I'll move it into Azure." As well, cloud/multicloud has largely been about transforming IT and doing work in the cloud because it's cheaper or simpler or more agile or all of those things. We think that's beginning to change.
Supercloud, from a buyer's perspective is about business transformation (aka digital). Building value on top of hyperscale infrastructure and building a new type of business in the cloud and across cloud.
The chart above shows some of the technology vendors that we believe are leaning toward this supercloud vision building on top of the hyperscalers highlighted in red. The chart shows spending momentum on the Y axis or Net Score and presence in the ETR data set or Market Share on the X axis. We've reported on Snowflake Inc. as the poster child for this concept with its data cloud vision.
Essentially it is the future of cloud in our view. If you don't own a hyperscale cloud, which is almost everyone, then you'd better embrace the technology capital spending gift the hyperscalers are giving to you.
More background on supercloud
Jerry Chen at Greylock wrote a piece called Castles in the Cloud. He and the team at Greylock are building out a database of all the cloud services and all the submarkets in the big clouds and it got us thinking that there's a higher-level abstraction coalescing in the market, where there's tight integration of services across clouds but the underlying complexity is hidden.
And there's an identical experience across clouds and in our dreams, even on-prem for some platforms. So what's newish and evolving are things such as location independence (including the edge) and metadata services to optimize locality of reference, data source awareness, governance, privacy, application dependent and recovery across clouds.
We're seeing supercloud evolve, especially in hyperscale ecosystems. In our view, the two biggest things that are new are: 1) The technology is evolving where you're seeing services truly integrate cross-cloud services; and 2) Digital transformation where a new innovation curve is developing and it's not just about making your IT better. It's about making everything software as a service and automating your entire company workflows.
So supercloud is not just a vendor thing. To us it's the evolution of "every company will be a SaaS company" to every company will deliver capabilities that can be consumed as cloud services, across clouds… hence superclouds.
Listen to how Erik Bradley views the ideas of supercloud.
Prediction No. 7: Data mesh gains momentum but is narrowly applied in 2022
Let's now shift to one of our favorite topics: data. This prediction will be a bit tougher to measure, but it's an important topic and based on the ideas put forth by Zhamak Dehghani of Thoughtworks Holding Inc. We see data mesh gaining momentum in 2022, but it will largely be confined to a more narrow scope.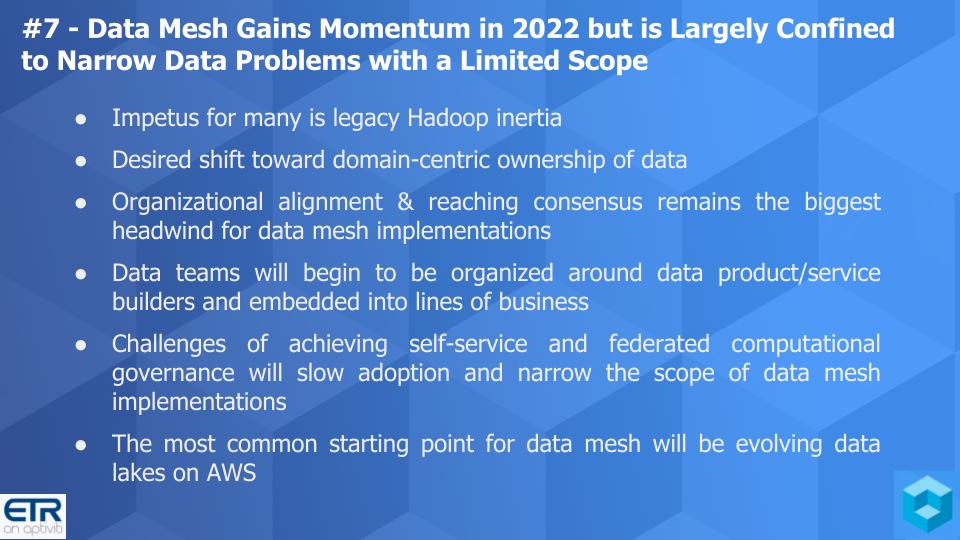 The impetus for change in data architecture at many companies stems from the fact that their Hadoop infrastructure didn't solve their data problems and they struggle to get more value out of their investments. Data mesh prescribes a shift to a decentralized architecture and domain ownership of data. In addition, it prescribes a shift to data product thinking – beyond data for analytics but data products and services that can be monetized.
While powerful, these concepts are difficult for organizations to get their heads around and further decentralization creates the need for a self-service platform and federated data governance that can be computationally automated. It's going to take some time for organizations to adopt the principles of data mesh.
At our analyst power panel predicting the future of data management, Tony Baer predicted a backlash on data mesh. We don't think it will be so much of a backlash but rather the adoption will be initially limited and narrow in scope. We predict most implementations in 2022 will use a starting point of AWS and it will enable domain owners to access and control their data via data lakes. And although that is a very small slice of the data mesh vision, we think it will be the starting point for most organizations.
The last thing we'll say is that this will take a decade to evolve but we believe it's the right direction. And whether it's a data lake or a data warehouse or data hub or an S3 bucket, these will eventually just become nodes on the mesh. We believe that the stranglehold that today is the the data pipeline process, combined with the exceedingly specialized roles required to make data work, will give way to a more decentralized approach. We believe the democratization of data will eventually become a reality for those organizations that embrace data mesh.
Listen to Erik Bradley's commentary on data mesh. 
Prediction No. 8: Databricks and Snowflake face off in M&A
We're going to stay with data for a moment and shine the spotlight on two of our favorite topics – Snowflake and Databricks Inc. The prediction here is Databricks will go public this year as expected and while these two companies are already facing off in the market, they will begin in earnest to compete for acquisition targets to accelerate their visions.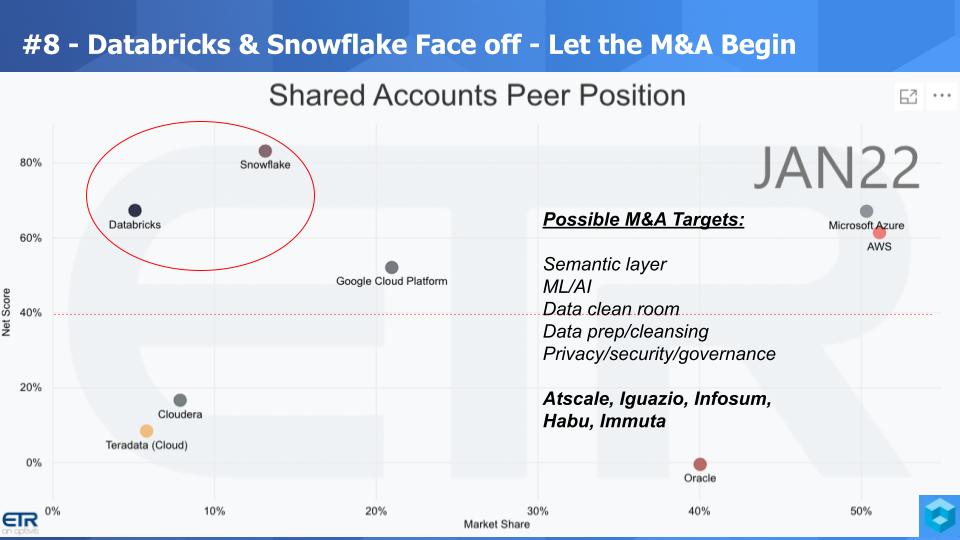 As shown in the chart above, both companies are look strong. This is the same XY graph with spending velocity on the vertical axis and presence within the ETR data set on the horizontal axis. Note that both Snowflake and Databricks are well above the magic 40% red dotted line – the elevated line. For context we've included a few other firms and so you can see what a good position these two companies are in – especially Snowflake – wow… it just keeps moving to the right but maintaining the Net Score on the Y axis.
Here's the interesting dynamic. Databricks uses the term "lakehouse" – implying it has the best of data lakes and data warehouses. And Snowflake has the vision of data cloud and data sharing. Snowflake has nailed analytics and is now moving into data science and the domain of Databricks. Databricks has nailed data science and is moving into the domain of data analytics. But to really make this seamless, there has to be a semantic layer between those two worlds and they're either going to build it or buy it or both.
There are other areas that could be good M&A targets like data clean rooms and privacy and data prep and governance and machine learning and AI tooling and the like. So the prediction is these two companies will not only compete in the market, but they'll step up and compete for M&A, especially after Databricks' IPO.
In the chart we've listed some target names here, such as AtScale Inc., Iguazio Systems Ltd., InfoSum Inc., Habu Inc. and Immuta Inc., and for sure there are others.
Erik Bradley comments on Snowflake & Databricks facing off in M&A.
Prediction No. 9: APM and observability are ripe for consolidation and going cloud-native
The next prediction is something we've reported on and discussed many times, and that's observability. We see this world screaming for more consolidation and going all in on cloud-native computing. Legacy stacks are fighting to stay relevant but the direction is clear. And this same XY graph below lays out the players on the field with some new entrants that we've highlighted. We've put a big red target around Splunk Inc. because everyone is after its gold.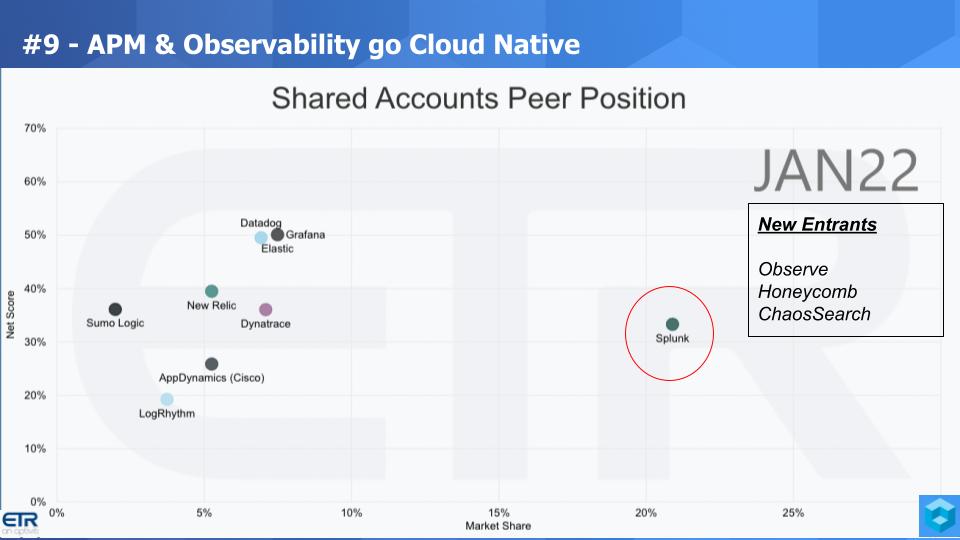 Key points:
Splunk does a fabulous job but was designed for on-prem and is still transitioning;
All new workloads are cloud-native and those architectures are winning;
Several new entrants beyond the three listed in the chart above;
Grafana Labs Inc., Datadog Inc. and Elastic NV looking strong in the data set;
New Relic Inc. is improving;
Buyers want fewer options.
Listen to Erik Bradley's commentary on observability.
Prediction No. 10: Hybrid events are the new category
Our last prediction is that hybrid events become the new digital model and a new category in 2022.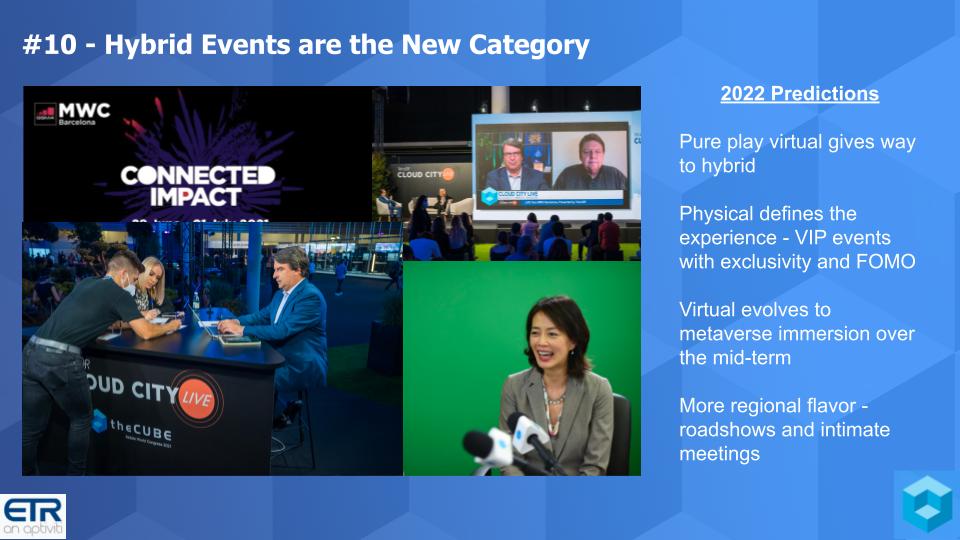 Pure-play virtual events will take a back seat to in-person hybrids this year. The virtual experience will eventually give way to metaverse engagements combined with physical hybrids. The metaverse will ultimately define the virtual experience and hybrid becomes the business model.
Today's pure virtual experience will evolve. theCUBE first delivered hybrid mid-last decade but nobody really wanted it. We did Mobile World Congress last summer in Barcelona in an amazing hybrid model (pictured above). And every physical event we're doing now has a hybrid/virtual component, including pre-recordings in our studio, as you can see with the green screen.
The bottom line is if nearly 70% of workers are remote or hybrid, events will follow that same direction.
Erik Bradley comments on prediction No. 10.
So there you have it – we'll check back in a year to see how well these play out. Thanks to Erik Bradley for his input and analysis on this episode.
Keep in touch
Remember we publish each week on Wikibon and SiliconANGLE. These episodes are all available as podcasts wherever you listen.
Email [email protected], DM @dvellante on Twitter and comment on our LinkedIn posts.
Also, check out this ETR Tutorial we created, which explains the spending methodology in more detail. Note: ETR is a separate company from Wikibon and SiliconANGLE. If you would like to cite or republish any of the company's data, or inquire about its services, please contact ETR at [email protected]
Here's the full video analysis:
All statements made regarding companies or securities are strictly beliefs, points of view and opinions held by SiliconANGLE media, Enterprise Technology Research, other guests on theCUBE and guest writers. Such statements are not recommendations by these individuals to buy, sell or hold any security. The content presented does not constitute investment advice and should not be used as the basis for any investment decision. You and only you are responsible for your investment decisions.
---
Show your support for our mission by joining our Cube Club and Cube Event Community of experts. Join the community that includes Amazon Web Services and Amazon.com CEO Andy Jassy, Dell Technologies founder and CEO Michael Dell, Intel CEO Pat Gelsinger and many more luminaries and experts.