COLUMBIA − Several students from Hickman High School walked out of class on Monday afternoon to protest the lack of a mask requirement in Columbia Public Schools. 
The Columbia Board of Education voted in December to lift the mask requirement throughout the district effective Jan. 4, the day students returned to the classroom from winter break. 
"I wasn't initially super upset," Hickman student Alice Carter said. "But then after COVID cases started to spike again and people still didn't wear their masks, I was really upset."
According to the CPS COVID-19 Dashboard, there are currently 187 students out due to COVID-19: 112 students have active positive cases, and there are 75 students in quarantine. The dashboard also shows 30 active staff cases, and four staff members are in quarantine. 
"It is just really frustrating that the school board chose now to change their policy," Hickman parent Todd Narrol said.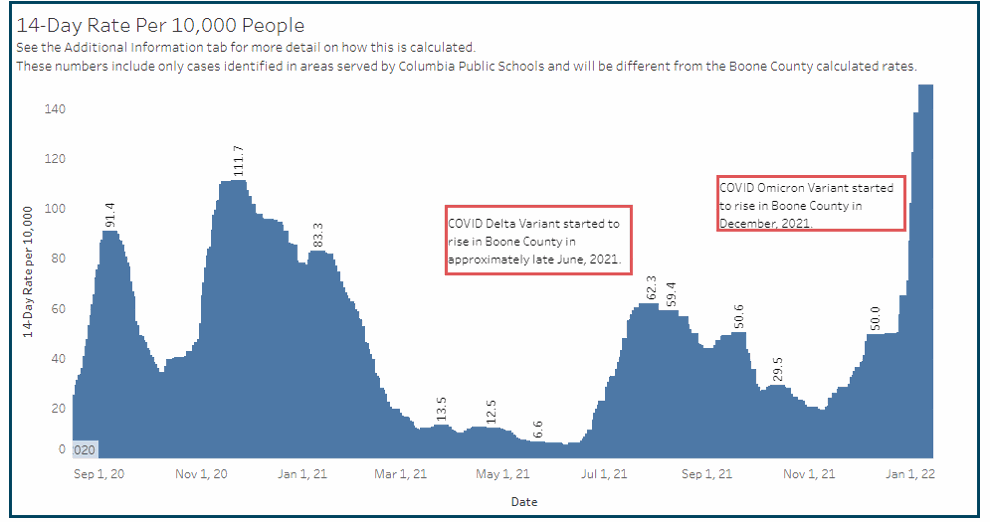 A Change.org petition circulated among parents last week calling for the school board to hold an emergency meeting about the mask policy in response to rising COVID-19 cases in the community. As of Monday, there were more than 2,500 signatures on the petition.
"I feel like the school's top priority should be student safety," Carter said. 
The Board of Education will meet on Monday night, but there are no COVID-19 items on the agenda. 
CPS spokesperson Michelle Baumstark told KOMU 8 that the board and district is monitoring COVID-19 in the community and will consider changes if necessary. She said the district anticipates those numbers those numbers to increase , as mid-Missouri experiences the current spike with the omicron variant.
"Our goal is to balance the importance of mitigation strategies with the need to have our scholars learning in person in our schools," Baumstark said in an email. "We continue to encourage following mitigation best practices, including wearing a mask, getting vaccinated, and social distancing to the extent possible. This same message of encouragement was shared with staff late last week and with CPS families on Friday."
Hickman student Quinn Felts said he was the one who organized the walkout on Monday. 
"I needed to do something," Felts said. "My friends felt the exact same way."
The students gathered into a group for 15 minutes before they went back inside to return to class. 
"Those students should be commended for taking social action," Narrol said. "I would hope that it happens more."
The students also want it to continue. 
"I think more people will join in after seeing what happened," Felts said. "I hope people take to social media."
Baumstark said the district was aware of the walkout, but there were "no issues today."
The board meeting is scheduled to start at 6:30 p.m. KOMU 8 will stream the meeting on KOMU.com, the KOMU 8 News app and KOMU 8 streaming apps.